Raw Juicing
If you already juice or your completely new to it this blog will really help you juice the R I G H T way!
Yes, there are some do's and dont's when juicing.
I've been juicing for about 2 years now and make fresh juice nearly everyday. For me it's an extra way to nourish the body I live in and a great way to get in extra goodness when I throw in super foods, health supplements, like echinacea and matcha Green tea.
Green juices are my absolute favourite, they are so rich in chlorophyll and have a powerful cleansing effect on the body as it works with the body's natural detox systems which clean our blood,lymph and cells. Are bodies only become sick because our organs, glands, muscles and systems are intoxicated with waste!
Green juices are the best option for cleaning… It's hard for a clean body and mind to develop disease or problems.
I'm going to share with you recipes and tips so you can get started… You can enjoy a juice everyday or fast for a full day of juicing and replenishing.
Green JUICE RECIPES…
"Wake Up Green Smoothie bowl":
Spinach or kale…or both! Any greens you have – I always save the stems from broccoli to juice, add 1/4 cucumber, one big slice of lemon, thumb size piece of ginger, 1 green apple and juice the entire lot.
Then add to your fresh juice 1/2 a ripe avocado, big dollop of coconut oil and a sprinkle of wheat grass then blend in with a small hand blender.
This is very filling and packed with essential fatty acids which are so good for your skin and organs. Top with crushed nuts and berries.
"Refresh Matcha Green tea juice:
Pack the following into your Juicer… A clump of mint, 1/2 lime, few slices of pineapple, 1/2 cucumber, handful of spinach and or a 1 tsp of wheatgrass powder and broccoli with stem. Add Super matcha green tea into an ice cube tray Then blend the ice cubes into your smoothies or juice! Extra goodness, antioxidant and anti-cancerous.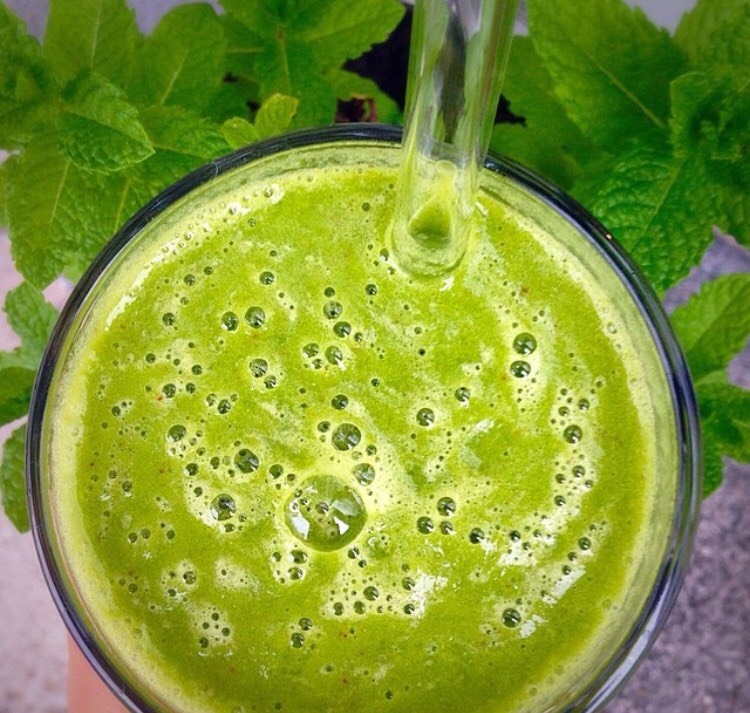 THE MORE GREENS YOU JUICE THE BETTER!!!!
Here are some tips:
~Try to drink your juice right after you've juiced it or consume within less than 3 hours (keeping it in the fridge or freeze it) as it will loose its nutritional content and just ferment! Yuk! freeze berries and other veg/fruit to save on any waste…fresh veg and fruit doesn't last long so freeze if you think you have too much or buy in smaller loads… Freezing keeps it really fresh, this will also add extra coolness to your juices.
~Fruit is very high in sugar and although it is natural the fructose will still spike your glucose levels up just leaving you with an energy slump and feeling hungry less than an hour later. Check out the dangers of fruit juicing here:
http://authoritynutrition.com/fruit-juice-is-just-as-bad-as-soda/
Focus on juicing just vegetables, only use a tiny bit of fruit if you have to (1 or 1/2 fruit portion only per juice) Try blending in the spinach and avocado after you juice so you keep in the fibre content, this will also give a smoothie like texture.
~ Add coconut water or spring water into your juice or smoothie to aid hydration.
~ where possible purchase only locally sourced and or organic vegetables and fruit… The fruit and veg that we get from supermarkets have traveled so many air miles it actually sucks goodness out!
Having a green juice everyday will nourish your body and fill it with the goodness it needs.
Enjoy these ideas and if you would like to learn more about juicing and juice detox fasting I have a detox juice and yoga retreat coming up for August 2015.
Love & Light
Tina