What to do when you get sick and how to find balance when life gets crazy busy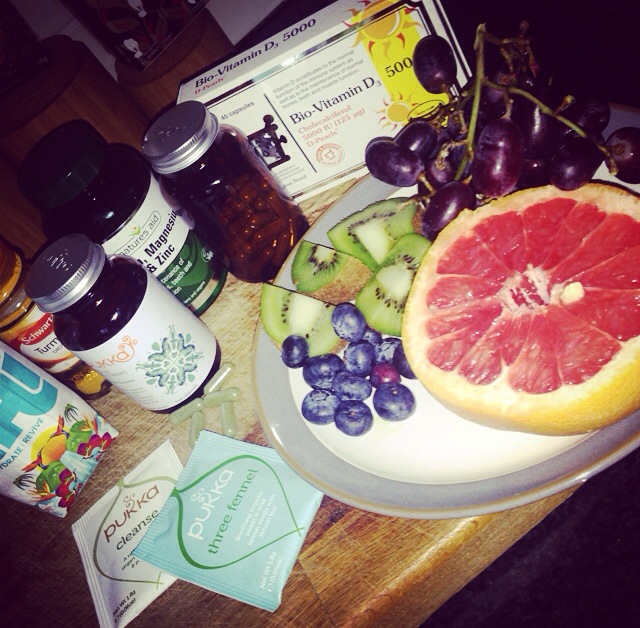 I have been going at a very high pace for a long time and although I get tired, I never get sick! I have to be healthy for my little boy and I have to be fit to teach my yogis!
I teach health and wellness, So It's not very yoga of me!
But, after a very busy and stressful first few months January hit and I started feeling a little under the weather and decided to ignore it!! (Big mistake) I had classes to teach, as well as give my constant devotion to my child, so this was definitely not the time to get sick. Even though what I probably needed the most was just some extra zzz's, I just pushed through. I took a little Turmeric Hot shot but I completely ignored the fact I should  1:
"listen to my body"
And it was such a busy time I also missed my "self practice everyday".
Yep, I always say "there's no such thing as not enough time" just set your alarm earlier and practice! Make time! But I had Zero time lately, not to practice fully! I didn't schedule in time for my own practice, and I know if I did I would have been much more in tune with my body!
Now, over a week later and I was feeling achey, exhausted… I really just wanted to collapse and I did! I got sick!
So i had no choice but to cancel a whole entire week of all my yoga classes—No fun! And this happened twice over!
I never cancel, I hate to cancel and would only ever do it if my little boy was sick.
I've never felt so unwell, it was scary! And I hope I don't have to feel like that again in a hurry. I know I have entered into a very hectic part of my life and I have learnt (the hard way).
I know this is life telling me to stop and slow down, I didn't listen when my body was first telling me to get some rest! – So right now I am listening, I am resting and planning to be back next week but for now I get to take this time to just rest! The rest of the weekend will be rest, rest, rest. Rest is now totally in my vocabulary! When life gets busy and your feet don't touch the ground be aware of how it is making you feel and how you can best manage it, these tips can help…
https://yogambs.wordpress.com/2014/10/04/tips-on-how-to-handle-a-busy-life/
Now, the question is—was it worth it?
Absolutely yes! Because I get to do what I love everyday, I love yoga, I love sharing it, I love helping people, It is in one word… AMAZING! And I am so grateful. Which reminds me that…"Love is always the most important thing".
I never forget this… I love teaching, I absolutely love sharing the healing it gives to people. I love it so much, I sometimes do it too much, which I now know I have to slow down and take little steps back from sometimes, Because there is such thing as too much of a good thing. I am focused now on learning to give and teach in moderation and not to ignore my own advice or myself!
So I am working on all of this giving and sharing with a different perspective! To make sure I practice self love too. And ask yourself… If it's not worth it. Change it! Change your life, change the way you work because life is too short for anything that makes you feel unhappy.
So, I thought I might as well share with you my best tips on how to fight sickness and find balance when life gets crazy busy… so here you go!
Step 1: HYDRATE.
When you're sick or when you're feeling like you're about to come down with something, make sure to drink a lot of fluids! Water of course, more than you normally drink (to help flush out your system), hot water with lemon, coconut water and also lots of herbal teas and healing green juices. I love Yogi Tea and Pukka Tea (make sure you go organic so you're not brewing up a big cup of pesticides!). I'm drinking a lot of the Echinacea tea…Echinacea contains active substances that boosts the immune system and helps fight infections. You can also take Echinacea before you're sick as a way to keep colds away but I haven't taken this for years! I think I will start taking it again.
Step 2: GO NATURAL!
A natural and balanced diet is your key to good health, but when you're sick it's especially important to eat lots more fresh, organic produce to up your vitamin intake. Go for fruits that are high in Vitamin C; oranges and grapefruits, kiwis, anything you like. I find all I want to eat when I'm sick is fresh fruit, it's the best natural food to snack on while unwell. Nature's sweets! And of course, full of vitamins and antioxidants and good for your overall health. Make your own raw guacamole and munch on raw vegetables and greens. Overdose on garlic cloves, so add extra in to the guacamole.
Avoid processed foods so your body can dedicate it's energy on fighting your sickness instead of having to break down nasty preservatives and additives.
Step 3: SUPPLEMENTS
There are a few supplements that I always take and keep stocked up on at home because they work for me. Pukka greens are full of wheat grass, spirulina and kale… Superfood goodness without the Yucky taste! I do take vitamin D as I believe I simply don't get enough of it, mainly due to living in a country where warm sunny days are sparse! I also take pukka Gotu kola supplements as they are great for fatigue, improve memory, focus and brain function. But can also be taken for and used to treat bacterial, viral, or parastitic infections such as urinary tract infection (UTI), shingles, common cold and influenza.
I don't get much sleep (since having my little boy, so I do take these vitamins on a daily basis as I find the constant lack of sleep puts a toll on my body, it means my body isn't going to repair and regenerate as it should from just sleep alone! So I just take the supplants to boost my body health.
I use the extra ones below when I need to fight a cold or when my immune system is getting weak from lack of sleep and stress. Note: I'm not an holistic doctor so YOU should always consult your doctor (preferably your holistic doctor before taking them). Here are the ones I think are great:
Grapefruit Seed Extract – Amazing stuff!! I take the capsules when I an extra boost. It has strong anti pathogenic properties that fight off infections, viruses and germs and prevent disease.
Colloidal Silver Spray – this is magic in a bottle! It's Antiviral, antibiotic and stimulates the immune system and fight off fungi. There has been lots of controversy regarding colloidal silver and weather or not it works, but this is another golden find for me. I take a teaspoon a few times a day when I'm sick or use the spray. It tastes like water with a light hint of metal.
Vitamin C – No explanation needed here. Look for vegan, natural capsules without gelatin. I like Great Earth brand because the vitamin is slowly released into your system (if you get too much at once you'll simply pee it out).
Turmeric – add to hot tea drinks, soups and juices. It's amazing for healing inflammation in the body and it's anti cancerous!
-Mineral salt spray in iodized water. Or make your own from crushed pink Himalayan sea salt in pure spring water. These kind of salts are completely unprocessed and are drawn from deep sea caves and Himalayan mountains, totally untouched by environmental contamination and millions of years old. The minerals in the salts are absolutely vital for our health but very unlike the normal salt you may put on your food, normal salt is completely stripped off all health Benifits.
You can take this after a sweaty yoga session, when it's really hot in summertime or when you need an extra energy boost.
Herbal Zap – This is a fab tea combining 14 Ayurvedic herbs long valued to support healthy digestion and immunity. Simply dissolve in a cup of hot water and drink right away. I get my box from amazon…
Did you know that 80% of the immune system is in your belly? Herbal ZAP naturally ignites your digestive fire and helps promote a healthy immune system again.
Step 4: HEART and SOUL… LOVE!
This might be the most important step of all. When you get sick, it's the universe telling you to slow down. So listen! Take a break. Slow everything down. Rest, rest, rest. Sleep as much as possible…one thing I wish I could do more of! This is your body needing to heal and you will need to sleep in order to heal.
It helps to put your computer and your phone away, when you start to feel better read books, watch films but mainly just cuddle up under a warm blanket and let yourself just be for a while. In between the hydration, natural foods and supplements snack on things that make me happy. Take some comfort food too.
Care for yourself, in all ways. And focus on getting better! Positive thinking is so important. Rest and take care of yourself but don't make yourself a victim. You'll be on your feet in no time.
I cant wait to see you all, to have the strength to play with my little boy, to do yoga again and feel vitality! Health is so so precious and although we all get sick now and again don't take your health for granted!
Sending love, light and thanks to my family and special friends who have given and offered such support whilst I've been so unwell and for all my yogis for understanding and sending well wishes.
See you soon
Tina 💚