Raw Homemade Chocolate
Hi Beautiful Yogis
Here is the recipe for the raw chocolate I made for the Ayurveda Workshop Mini retreat last night…It's VEGAN too and so delicious, literally just melts in your mouth. It's naturally sweet and made with coconut oil, so perfect for nourishing the Vata dosha. I've added coconut flakes this time which gives it a great texture and the raw cocoa is uplifting and mood boosting so good for Kapa dosha.
You can also add nuts, raisins, orange oil, goji berries or pretty much whatever you feel like to the mixture. I've added peppermint oil before which is so cooling and refreshing for a Pitta Dosha….
A Tri Dosha Chocolate Treat!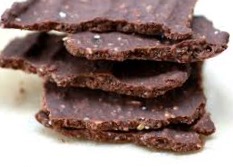 1/3 Raw Cocao Chocolate powder
1/2 cup melted coconut oil
4 or 5 tbsp maple syrup
1/3 cup unsweetened shredded coconut ( or anything you desire)
A dash of Himalayan Sea Salt
Mix the above together until smooth with no lumps. Pour the chocolate mixture in a silicone dish and put in the fridge until set.
Cut up or break up into chunks and eat right away. As it's made with coconut oil the chocolate will melt quickly.
E N J O Y
Love
Tina
✨